As I wrote in my call for feedback and testing of the Ceph management features in openATTIC 2.0.14, we still have a lot of tasks on our plate.
Currently, we're laying the groundwork for consuming SUSE's collection of Salt files for deploying, managing and automating Ceph. Dubbed the "DeepSea" project, this framework will form the foundation of how we plan to extend the Ceph management capabilities of openATTIC to deploy and orchestrate tasks on remote Ceph nodes.
In parallel, we are currently working on extending the openATTIC WebUI on making the existing backend functionality accessible and usable. Next up is displaying the performance statistics for Ceph pools that we already collect in the backend (OP-1405).
To whet your appetite, here's a screen shot of the ongoing development: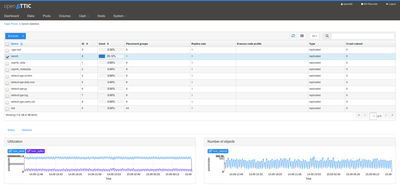 Keep in mind this is work in progress. What do you think?